Vocal folds Shortening/Retrodisplacement of Anterior Commissure
What's Vocal folds Shortening/Retrodisplacement of Anterior Commissure (VFSRAC)?
Yeson Voice Center's Vocal Folds Shortening and Retro­displacement of Anterior Commissure (VFSRAC) known as the safest and most effective way of feminizing one's voice is highly differentiated from previous types of voice feminization surgery.



What is unique about this surgery is that VFSRAC uses the most advanced surgery technique which perfectly modifies the features of male vocal folds as those of female vocal folds free of skin incision by removing 1/3 portion of vocal folds membrane and internal tissue, and then suturing them out tight with permanent suture material using the micro instruments.



Considering the surgical site is only about 3~5mm and Dr. Kim should tie a knot in thinnest permanent thread at two points on vocal folds only by using the micro instrument, this technique can be hardly practiced without Dr. Kim's own know-how he had gained through many years of animal experiment Another key to successful result of VFSRAC is to use the permanent suture which can induce progressive thinning of vocal fold mass to get higher fundamental frequency and keep the result permanent.
Surgical procedure
First, the anterior 1/3 potion of vocal folds membrane is deepithelized and sutured out tight to shorten the vibrating portion.
Then, the anterior Commissure is retrodisplaced to enable it to have natural vocal folds vibration.

This technique induces naturally feminine vocal fundamental frequency by shortening vocal folds length without damaging 50 muscles existing in larynx.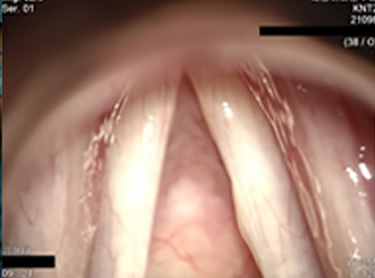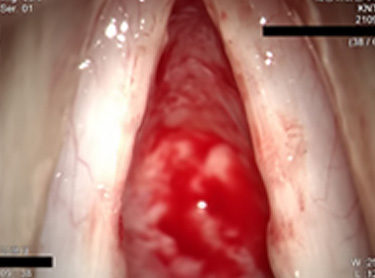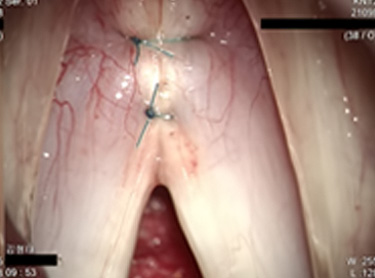 Outcome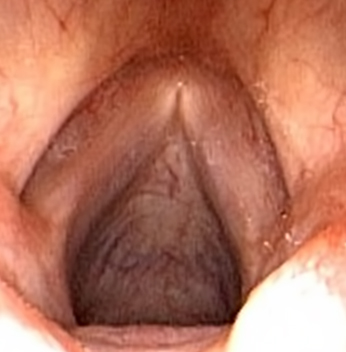 Pre-op vocal folds
1 year post-op vocal folds
Outcome of VFSRAC
As an end result, VFSRAC can increase one's vocal fundamental frequency up to 73.6hz in Transgender group in average
from male range (100hz~150hz) to female range (200hz~250hz) as shown in the table below.
Voice outcome of VFSRAC in Transgender group and biological female with

androphonia group: 12years of experience
| | Total group (Hz) | Transgender group (Hz) | Androphonia group (Hz) |
| --- | --- | --- | --- |
| Pre-operation | 144.1 | 134.6 | 153.5 |
| 3 month post-operation | 194.8 | 190.3 | 199.4 |
| 6 month post-operation | 207.4 | 208.2 | 206.5 |
According to the past history of Adam's apple shaving, voice outcome of VFSRAC shows more optimal result as below in the table drawing more feminized voice pitch in those who had not taken Adam's apple shaving.
Voice outcome of VFSRAC according to the Thyroid cartilage reduction
(Adam's apple shaving): 12 years of experience
| | Adam's apple shaving(+) | Adam's apple shaving(-) |
| --- | --- | --- |
| Pre-operation | 138.9 | 130.2 |
| Post-operation | 206.2 | 210.1 |
| Average pitch increase | 67.3 | 79.9 |
VFSRAC leading up to 92% of satisfactory rate, the average period taken to get a fully feminized pitch is around 6~12 months. The result is highly dependent on one's vocal folds characteristics and post-op cares following all given instructions and it may take up to one year until a patient could completely adapt to using newly shortened vocal folds. Doing the voice rehabilitation exercises for retraining phonatory pattern on a daily basis for quite a few months up to 1 year and continuing the Botox treatment if diagnosed with vocal tremors through the Comprehensive Voice Examination (CVE) could be required. As VFSRAC is not a surgery which can draw the instant outcome immediately after surgery, training the female resonance, adapting to new laryngeal biofeedback reflex system and rebuilding the phonatory pattern are crucial part to adapt to using newly re­created vocal folds.
Voice Feminization Surgery Post-Op Voice Management and Voice Progression
(The result might not progress as exactly as shown in this graph)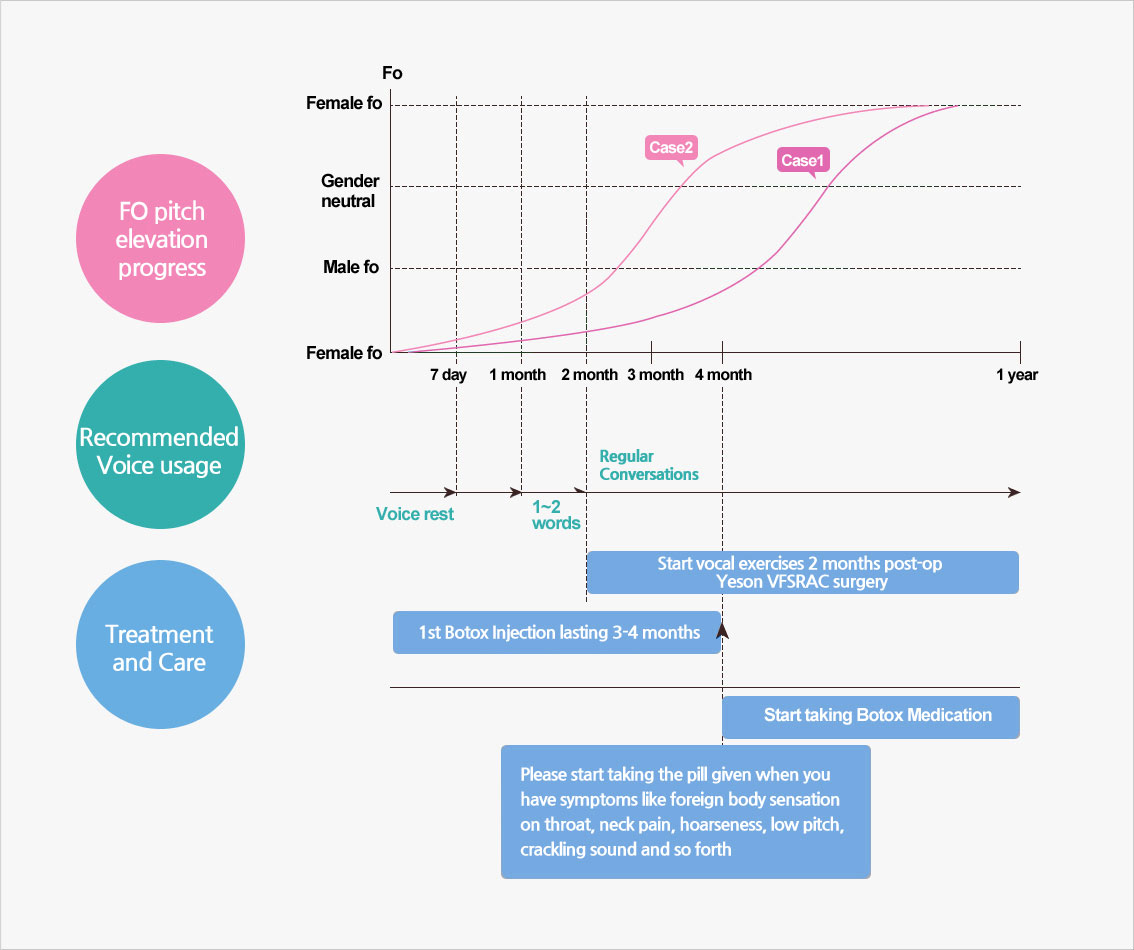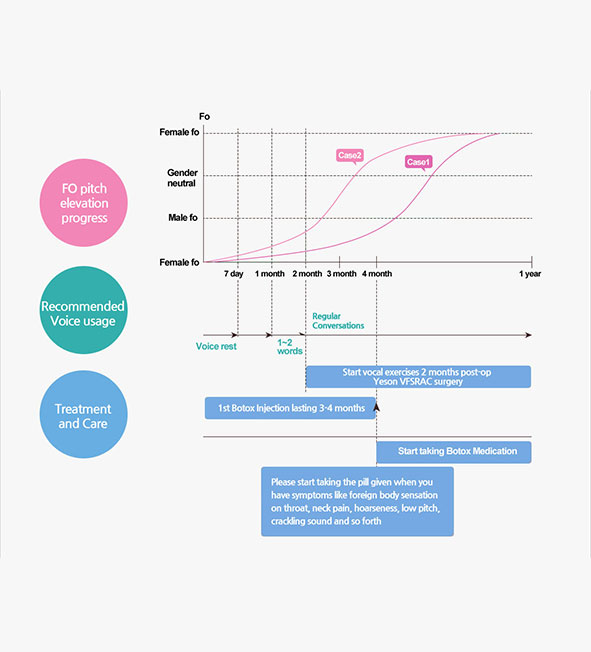 Complications of Vocal Folds Shortening and Retrodisplacement of Anterior Commissure (VFSRAC)
VFSRAC is a very safe procedure with minimized risks, however, there could be temporary complications such as pitch instability, foreign body sensation in throat, rough voice, pain in the neck, bleeding, sputum, cough and etc and these symptoms are all temporary. In that, to draw the best outcome of the surgery analyzing an individual patient's vocal characteristics is very crucial to select the best treatment plan. In addition to this, through the female resonance training as a part of vocal rehabilitation program it's possible for patients to feminize their voice more naturally by modifying the phonatory pattern. Voice Feminization Surgery must be done by highly skilled and experienced surgeons, otherwise, voice cannot be improved where there's a lack of voice therapies and rehabilitation programs. Most importantly, a very accurate diagnosis must be made by a highly experienced surgeon before a patients decides to go for this surgery.
Comparative table for 5 difference types of Voice Feminization Surgeries
scroll please
| | VFSRAC | Cricothyroidopexy | Thyroid Cartilage and Vocal Folds Reduction | Web glottoplasty | Laser reduction glottoplasty |
| --- | --- | --- | --- | --- | --- |
| Surgical procedure | Dissecting the anterior portion of vocal folds membrane and suturing out vocal folds muscles to shorten vocal folds size. | Pulling the thyroid and cricoids cartilage, and fix them | Removal of thyroid cartilage and vocal folds | Sticking the anterior portion of vocal folds to shorten the vocal folds vibrating portion | The laser under the endoscope removes only the mucosal membrane which causes the most severe wave of the vocal folds and the wound created raise the pitch by strengthening the mucosal wave. |
| Skin incision | No | Yes | Yes | No | No |
| Hemorrhage | No | Yes | Yes | No | No |
| Anesthesia | General | General | General | General | Local |
| Voice quality | Natural voice | Falsetto | Unnatural falsetto | Rough voice | Rough falsetto |
| Singing | Possible | Impossible | Partially possible | Impossible | " |
| Complications | None | Inflammation, only the higher register may expand, unstable pitch increase | Inflammation, excessive change in vocal characteristic, unnatural pitch increase, | Change in voice and worse voice quality | Change in voice and worse voice quality |
| Misc. | Restrictions: 1 week voice rest/ No smoking/drinking For 3 months | Limitation on the pitch-increasing process due to the thickened vocal folds | Excessive reduction of vocal folds may result in poor voice quality which cannot be restored. | Applicable for certain patients/ limitation on the pitch-increasing process | Longer recovery period, limitation on increasing vocal fundamental frequency |
Pre/Post-op review videos of VFSRAC surgery
Yeson Voice Center has the most reviews from patients among existing hospitals performing voice feminization surgeries which prove its excellence
and reliability of the outstanding surgery technique and permanent outcome.
Proven effectiveness of VFSRAC surgery technique
Yeson Voice Center took participation in the 20th World Congress of the International Federation of Otorhinolaryngological Societies (IFOS) held at Coex Convention Center in Seoul, Korea on June 5th, 2013. This World Congress is referred to as an Olympic in the field of Otorhinolaryngology having been opening every 4 years with its members that count up to 50,000 from 125 different countries.Remarkably at this forum, Yeson Voice Center was introduced as a representative ENT center in Asia and threw a pitch regarding its research findings on Vocal Folds Shortening and Retrodisplacement of Anterior Commissure (VFSRAC). This new surgery technique was praised by other professionals gathered from U.S.A., German, France and so forth in this forum in terms of its safety and effectiveness of the surgery method which cannot be compared with previous type of voice surgeries.

VFSRAC surgery technique firstly introduced by Dr. Hyung-Tae Kim, the director of Yeson Voice Center, when he devoted himself as a professor at Catholic Medical University in Korea was originally aimed at treating the female patients whose voice got deeper and masculine due to genetic disorder like Adrenogenital syndrome.

What is unique about this voice surgery is that unlike previous voice surgeries, skin incision is not required but performed with the aid of endoscopic tool to modify the size, length and thickness of male's vocal folds into those of female shape making it possible to gain natural pitch increase with less damage on the vocal folds tissue and larynx.

The world's renowned ENT journal, The Laryngoscope, has approved Dr. Hyung-Tae, Kim's paper regarding the proven effectiveness of VFSRAC surgery based
on his 12 year research findings.